Special Prices on Zoffany Paints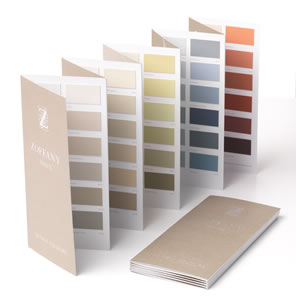 30.08.2011
Zoffany launched 38 new colours selected to complement its new range of fabrics and wallpapers. Twenty-two neutrals, thirteen soft colours and three deep shades work perfectly with recent wallpaper collections. With these additions, the new Zoffany palette comprises 120 colours reflecting the demand for subtlety in tone and the ability to match colour perfectly to the soft furnishings in a scheme. Call in to us to see the full range here at the library where colour cards are available to pick up and sample pots are available to purchase too.
Prices Sept 2011
Sample Pots €5.50
Flat Emulsion 5 Ltr €69.00, 2.5 Ltr €42.00
Oil Eggshell 2.5 Ltr €53.00, 1 Ltr €29.00
Acrylic Eggshell 2.5 Ltr €53.00, 1Ltr €29.00
Gloss 1 Ltr €29.00


Allow 3 Business Days for Delivery
view all news articles >>
Join Our Mailing List
If you wish to keep up to date with all the latest news of new collections please join our mailing list. By joining and you can also be the first to avail of our special discounts. All we need is your email address which we will not disclose to any third parties.
Join the mailing list >>
© Lucinda M. Batt @ The Interior Library, Donnybrook, Dublin 4 Tel/Fax: 01 2603732