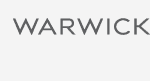 Warwick Fabrics are creators of exclusive furnishing fabrics for both domestic and commercial interiors. The Warwick Fabrics UK head office is based in the heart of The Cotswolds at Bourton-on-the-Water in Gloucestershire. From this central location Warwick Fabrics are well-placed to meet the delivery and expectations of our domestic and export customers. International trade is fundamental to Warwick Fabrics, exporting to 40 countries, and in 1993 the company won the Queens Award for Export Achievement.
Warwick Fabrics UK controls the Distribution to Europe, Africa & the Americas, while Warwick Fabrics Australia controls the Distribution to Australasia, the Pacific Rim Countries, the Middle East and India.
Over the past decade Warwick Fabrics and the South African distributer ST LEGER & VINEY have developed a strong business relationship. ST LEGER & VINEY, as a joint venture with Warwick UK, has joined the Warwick Group, resulting in the two companies joining forces in the South African and European markets.
http://www.warwick.co.uk