COMING HOME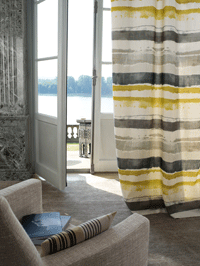 02.09.2011
After a long journey we often sense intensely the wonderful feeling of "COMING HOME". We look forward to the familiar atmosphere that awaits us in our very own favourite place, whether it's the comfortable lounge sofa by the fire or an old reading chair by a sunny window. This is where we find the time and peace to reminisce and to forge new plans.
The little trophies we find along the way, in our constant search for something special, find their new home in our home and give us new inspiration for our décor. This is what forms the very personal mixture which makes up the interior of every home. It is often hand-made, seemingly original textiles, furniture and objects which win our hearts. In our technological age, it is their unique character and captivating individuality which so fascinate us.
In the new Zimmer + Rohde collection, ethnic in-spired silk compositions and decoratively printed linen tell stories of sensuality and textile refinement. Intricate embroidery and striking jacquard fabrics bring together a wide range of cultural influences with the timeless elegance of an urban interior. The exciting mixture of varied surfaces and designs is underlined in the latest colour ranges. Neutral and earthy tones such as sand, cocoa and camel, as well as discreet water shades, give a sense of equilibrium and sublime elegance. Fresh lemon yellows, strong red tones and deep inky blues give spirited flashes of colour.
One of the highlights of the collection is the DELUXE upholstery fabric: The combination of plush viscose velour and chenille threads in the woven fabric give a comfortable quality that just begs to be touched. An attractive contrast to this is GRACE, an elegant satin fabric with a silky look and a flowing drop.
Whether you are a collector or a minimalist, the new fabrics in the COMING HOME collection inspire expressive decoration and offer plenty of space for personal interpretation.
view all news articles >>
Join Our Mailing List
If you wish to keep up to date with all the latest news of new collections please join our mailing list. By joining and you can also be the first to avail of our special discounts. All we need is your email address which we will not disclose to any third parties.
Join the mailing list >>