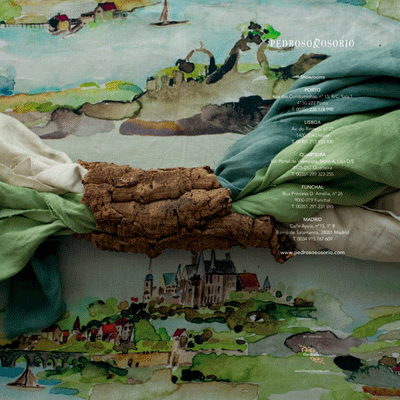 Landscape
Landscape from the Pedroso & Osorio collection, "Closer", a selection of floral patterns, landscapes, geometric motifs creating an intriguing fusion and attractive eclecticism when mixed within eachother.
Fresh and vibrant colours can be found: coral, indigo blue, lemon yellow or green aquatic tones followed by different sky blues.
Several textures: soft and light linen,strong and thick jacquards with coloured magic toucans or sweet geometric beehives;
translucent, fluttering voiles; embroidered dancing trelis: white flowers or palid batiques printed on a dark blue cotton
similar to a night sky; soft shadows for colourful flowers painted as a unique watercolour.
Enquire about this item >>
Designer:
Pedroso & Osorio
Pedroso & Osorio began its activity of the sale of decorative fabrics to professional interior designers in 1978. Due to the diversification of the brands purchased as well as market expansion, the number of showrooms has grown in Portugal. During the last few years, Pedroso & Osorio has dedicated special attention to it's exclusive brand of fabrics which is sold all over Europe.
Visit Pedroso & Osorio website
© Lucinda M. Batt @ The Interior Library, Donnybrook, Dublin 4 Tel/Fax: 01 2603732